Adjust or set the 'date time taken' of your digital photos with no loss in image quality
Compensate for incorrect camera settings or different time zones within seconds across an entire folder of images.
Adjust images based on camera date time, file created or modified dates or from text in the filename.
Process selected images or batch process entire folders of images
Quickly and easily select the required images by either selecting a folder or individual images.
Alternatively set the selected images by using Windows drag and drop to drop a folder or selected images directly onto EXIF Date Changer.
Add additional information to your photos
Include captions or titles (used by many programs such as Picasa, Adobe Lightroom), keywords, copyright and photo credit information to your images.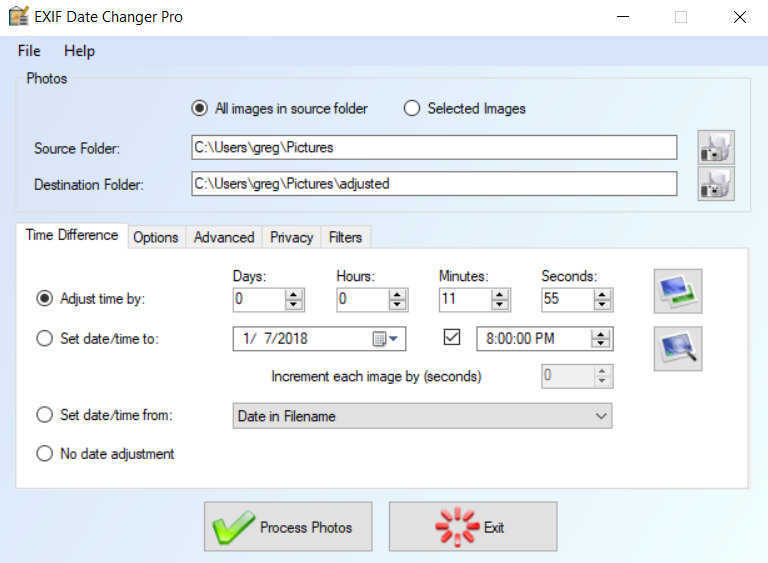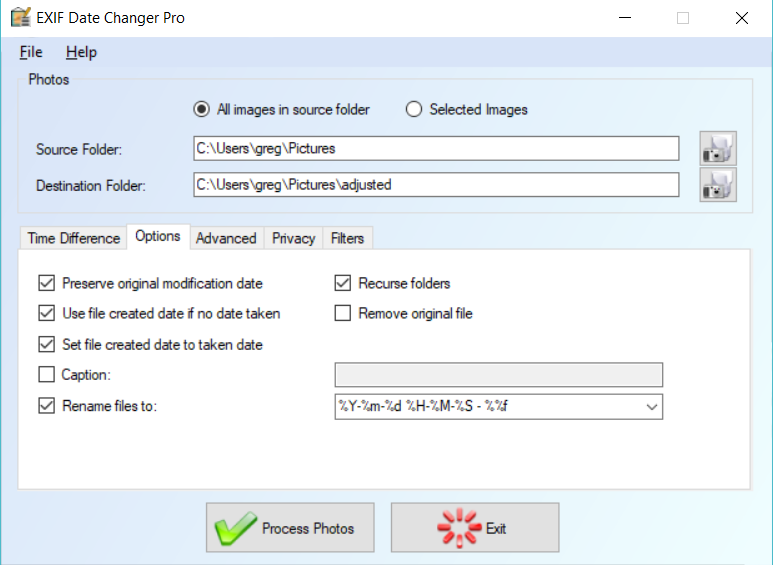 Rename photos based on photo date for easier sorting of your photos
Renaming all the images to include the date time taken within the filename makes it much easier to identify the image date without having to open the image properties, along with easier sorting on devices which don't allow you to sort by image date time taken.
Allows customization of the output file name format. Eg. 'TRAVEL_20061029_Australia.jpg' instead of '2006-10-29 13-35-47 – Australia.jpg'
Add date taken information to scanned images or older photos
Add time taken to images without EXIF data. Eg. scanned photos, edited photos or photos taken on older cameras. Adding photo dates allows allows photo gallery software and windows to order or find your images by the date the photo was taken.
Set a starting photo to a specific date and then add additional time to each subsequent image.
Watermark your JPG images
Add text directly onto your image such as image date time, file name or custom text
Filtering of images
Using filters allows you to separate out and exclude certain images from processing. Adjust images from a specific camera only to synchronize photos from multiple cameras, or only adjust photos taken after a certain date.
Time adjustment calculator
Time difference calculator to help determine correct date / time adjustments. Enter two different dates to calculate the exact offset difference, or set these dates based off the date time an image was taken.
Available in multiple languages
English, German, French, Russian and Polish.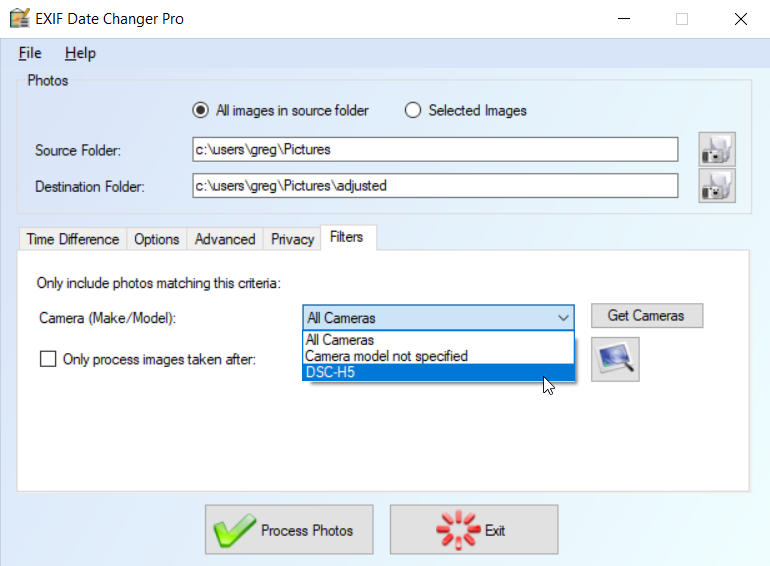 EXIF Date Changer v3.9
To install, just download and run the installer and then follow the prompts. If you haven't already purchased a license key you will still be able to run the standard lite version of EXIF Date Changer for free before deciding to purchase the PRO version.
For past versions of EXIF Date Changer, please click here
Lite

Free

Pro

$14.95

€11.95

Platinum

$19.95

Our most valuable package!

Most valuable!

Free
Buy Now (USD) Buy Now (EUR)
Buy Now (USD) Buy Now (EUR)
Program Updates

Access to new versions.

—
Major Version
Lifetime Updates
Standard Features

Set image date/time, caption, file renaming etc.

Batch processing of JPEG Image Formats

Ability to process multiple JPG images.

Batch processing of RAW Image Formats

Ability to process multiple RAW images (CR2, NEF, TIFF, etc.)

Advanced Features

Setting of copyright, credits, watermarking, image camera filtering etc.

Privacy Features

Remove all EXIF metadata, camera make/model or GPS location information.
Purchases can be made from any currency but will be converted from USD. Click here for EUR pricing.
Purchases can be made from any currency but will be converted from EUR. Click here for USD pricing.
What some of our users have said
"I love this program, it has saved me so much time after dealing with my fathers photo collection of over 60 years worth. It is so simple and quick. Thank you so much."
Tracey McCormick
"We had a holiday tour with friends and 3 cameras. Some weeks later at home, when we want to bring all the pictures together for making a slide show we see that all 3 cameras had different dates and times. Only one camera had the correct date and time. With EXIF Date Changer we solved our problem easy, quick and correct. Without your program we had to handle single every photo of more than 1000 photos. Once again, we all thank you very much."
Reinhard – Germany
"Your software tool is OUTSTANDING! I've used it for synchronizing 2 or more cameras from common events and it works perfectly. It's great for renaming pictures to new file names as well. Thank you for making a very useful tool with so much flexibility and options."
David Lum
This latest update fixes a few issues found in the latest release when processing .mov files.
Read more
Need some help? or just want to give us some feedback?
Whether you have some problems with EXIF Date Changer or just want to give us some feedback, we'd love to hear from you.
Contact info