Portfolio Manager is a personal stock portfolio management system with the aim of being a complete stock trading diary. With minimal time and effort you can track which stocks you have bought and sold, along with any associated dividends without the need to continually update a spreadsheet. This information is vitally important when trading to improve your trading strategy.
At any time you can instantly see your portfolio performance over the year. With statistics on both your open trades as well as your historical trades you know exactly where you stand at any given point in time.
With easy to use reports it also takes the hassle and paperwork out of tax time with the potential to save you thousands in accountant fees.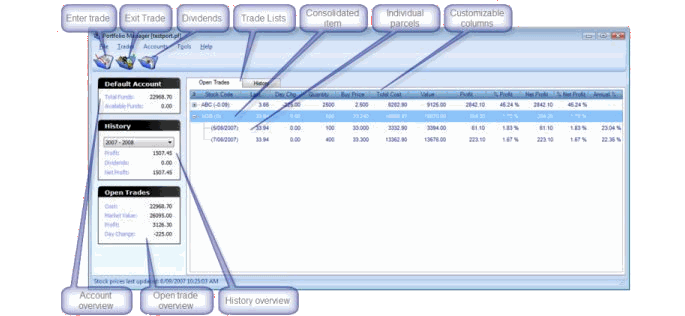 Why use Portfolio Manager
| | | |
| --- | --- | --- |
| Easy and fast to use | Will save you time and money | Quickly generate reports |
Keeping up to date records of what not only what you've bought and sold but also how long you held the trade, your brokerage expenses, dividends etc is vital for your trading success.
As many of you may already know, tax time can be a nightmare. Portfolio manager simplifies this process with the use of a report, containing all the required information for your accountant. This not only cuts down your time spent, but also the accountants, saving you money. By tracking exactly which parcels of stocks you've bought and sold you can also minimize your tax. By analyzing your previous trades you can also highlight any problem areas in your trading plan. For example, did you let your emotions control you trade, or did you stick to your plan?
I have been using Portfolio Manager now for a few weeks and already, it has provided me with a clearer picture of where my shares sit on a day to day basis and as well as the profit/loss all profits might I add) statements for each Financial Year. The Tax Sheet is just printed out and delivered to my Accountant; too easy.     –M Buckley – Australia
Benefits:
Easy and fast to use with wizards to simplify data entry.
Manual stock price updates
Manage multiple Portfolios
Tracks all of your stock transactions and associated dividends
Ability to sell all, or portions of shares to allow for maximum tax benefits
Optional Accounts to track total funds in use as well as available funds
Includes information on your trading plan such as disaster stops targets etc
Trade diary to store any extra information
Reporting – Quickly and easily print reports
Your portfolio is stored on your PC, not someone elses server
For more information on the features please see our detailed features page.